Seth Godin (vice president direct marketing – Yahoo) has written an interesting book on net marketing. He's a bit over-emphatic in promising to "show us the future", but many of his comments make sense. Like other recent books, such as The Caring Economy and High tech - High touch, it helps us to understand how network marketing and communication can be really effective if we care about relationships with people.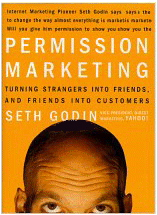 In Permission Marketing Seth Godin explains that corporate communication and marketing are in trouble. The traditional way, which he calls interruption marketing, has reached saturation. There are simply too many products, too many messages, for anyone to be able to pay attention. I think he overstates the point (traditional marketing isn't dead, it still works in many cases) but he is right in pointing to the new options offered by the internet.
Even direct marketing and data based marketing, in the traditional sense, have serious limitations. The segmentation tools are clumsy, there is considerable (and growing) refusal. «These techniques – says Godin – are astonishingly wasteful.»
Applying the same concepts in the internet isn't just wasteful; it can be harmful. This is what Seth Godin says about trying for "large numbers" on the internet.
This is a very, very big haystack, and interruption marketers don't have that many needles.
At last count, there were nearly 2,000,000 different commercial web sites. That means that there's about 25 people online for every single website... hardly a mass market of interest to an interruption marketer.
Alta Vista, one of the most complete and most visited search engines on the internet, claims to have indexed 100 million pages. That means that their computer has surfed and scanned 100 million pages of information, and if you do a search, that's the database you're searching through.
It turns out that in response to people who do searches online, Alta Vista delivers about 900 million pages a month. That means that the average page that they have indexed in their search engine is called up exactly nine times a month. Imagine that. Millions of dollars invested in building snazzy corporate marketing sites and an average of nine people a month search for and find any given page of information on this search engine.
Marketers have invested (and almost completely wasted) more than a billion dollars on web sites as a way of cutting through the clutter. General Electric has a site with thousands of pages. Ziff-Davis offers a site with more than 250,000 pages! And a direct result of this attempt to cut through the clutter is the most cluttered, least effective marketing of all.
People don't have the time to pay attention. The more bells and whistles are added to try to attract attention, the more they add to the clutter. The solution is to deal with people who are interested in what we have to say. This is how Seth Godin defines "permission marketing".
Interruption Marketing is the enemy of anyone trying to save time. By constantly interrupting what we are doing at any given moment, the marketer who interrupts us not only tends to fail at selling his product, but wastes our most coveted commodity, time. In the long run, therefore, Interruption Marketing is doomed as a mass marketing tool. The cost to the consumer is just too high.
The alternative is Permission Marketing, which offers the consumer an opportunity to volunteer to be marketed to. By only talking to volunteers, Permission Marketing guarantees that consumers pay more attention to the marketing message. It allows marketers to calmly and succinctly tell their story, without fear of being interrupted by competitors or Interruption Marketers. It serves both consumers and marketers in a symbiotic exchange.
Permission Marketing encourages consumers to participate in a long-term, interactive marketing campaign in which they are rewarded in some way for paying attention to increasingly relevant messages. Imagine your marketing message being read by 70% of the prospects you send it to (not 5% or even 1%). Then imagine that more than 35% respond. That's what happens when you interact with your prospects one at a time, with individual messages, exchanged with their permission over time. Permission marketing is anticipated, personal, relevant. Anticipated:-people look forward to hearing from you. Personal: messages are directly related to the individual. Relevant: the marketing is about something the prospect is interested in.
I know what you're thinking. There's a catch. If you have to personalize every customer message, that's prohibitive. If you're still thinking within the framework of traditional marketing, you're right. But in today's information age, targeting customers individually is not as difficult as it sounds. Permission Marketing takes the cost of interrupting the consumer and spreads it out, over not one message, but dozens of messages. And this leverage leads to substantial competitive advantages and profits. While your competition continues to interrupt strangers with mediocre results, your Permission Marketing campaign is turning strangers into friends and friends into customers.
There are two ways, Seth Godin says, of getting married.
The Interruption Marketer buys an extremely expensive suit. New shoes. Fashionable accessories. Then, working with the best databases and marketing strategists, selects the demographically ideal singles bar.
Walking into the singles bar, the Interruption Marketer marches up to the nearest person and proposes marriage. If turned down, the Marketer repeats this process on every person in the bar.
If the Marketer comes up empty-handed after spending the entire evening proposing, it is obvious that the blame should be placed on the suit and the shoes. The tailor is fired. The strategy expert who picked the bar is fired. And the Interruption Marketer tries again at a different singles bar.
If this sounds familiar, it should. It's the way most large marketers look at the world. They hire an agency. They build fancy ads. They "research" the ideal place to run the ads. They interrupt people and hope that one in a hundred will go ahead and buy something. And then, when they fail, they fire their agency.
The other way to get married is a lot more fun, a lot more rational, and a lot more successful. It's called dating.
A Permission Marketer goes on a date. If it goes well, the two of them go on another date. And then another. Until, after ten or twelve dates, both sides can really communicate with each other about their needs and desires. After twenty dates, they meet each other's families. And finally, after three or four months of dating, the Permission Marketer proposes marriage.
Like all the best people writing about the internet, Godin is very critical of "dreaded" spamming. He is also against any violation of privacy and any attempt to capture, sell or buy personal data; which isn't only a waste – it's also a way of antagonizing people and destroying relationships before they can grow into binds of trust.
He also talks about the advantages of opensource software.
When there's an abundance of any commodity, the value of that commodity plummets. If a commodity can be produced at will and costs little or nothing to create, it's not likely to be scarce, either. That's the situation with information and services today. They're abundant and cheap. Information on the web, for example, is plentiful and free.
Software provides another example. The most popular web server is not made by Microsoft or Netscape. And it doesn't cost $1,000 or $10,000. It's called Apache, and it's created by a loosely knit consortium of programmers and it's is totally free. Free to download, free to use. As resources go, information is not scarce.
===================================
Seth Godin practices what he preaches – up to a point. On his website he offers, free of charge, the first four chapters of his book (and he is wise enough to send them as "plain text"). He promises: «I'll never rent or sell your email address.» (I would like to see more companies making that promise clearly and boldly).
But... if you write to his mailbox you get a standardized and irrelevant automatic reply. That doesn't make his reasoning less interesting or valuable; but it shows that good management of interactive communication isn't quite as easy as he says.