Recent Eurisko surveys confirm, in part, the picture that we saw last year, but there are some relevant changes. Other sources report different data, but the broad trends are fairly clear.
Let's start with distribution by geographical area.
Internet "users" by area

Source:Eurisko – July 1999
No change from last year; but an analysis of "new users" shows an improvement in the South.
Other surveys show a different picture; for instance Ipsos-Explorer reports a higher concentration in the North-East and a more balanced situation in central Italy. Bocconi confirms a higher level in the North-West.
Internet "users" by size of place of residence

Source:Eurisko – July 1999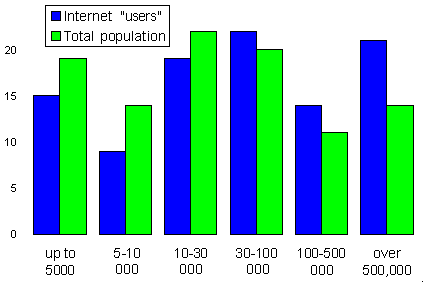 There is still higher concentration in the cities but net usage is spreading to smaller towns. The same trend is confirmed by other surveys.
Internet "users" by age

Source:Eurisko – July 1999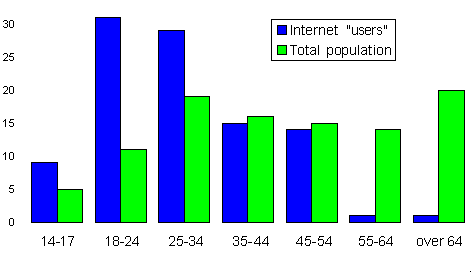 There is considerable change – many more young people online. Other surveys still show concentration in the 25-54 age group, but agree on an increasing number of young adults and teenagers. Penetration is still very low with people over 54. But the net is not dominated by the young. The more active and experienced people are mostly "grownups" – and of course they are getting older.
Internet " users" by education level

Source:Eurisko – July 1999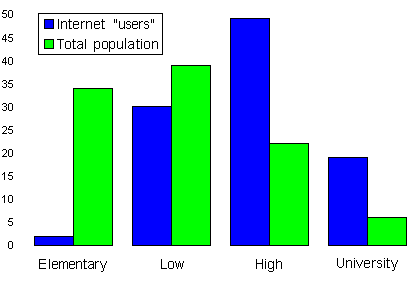 There is still a (pretty obvious) concentration in higher education levels, but there are many more people online with lower school degrees. This is due only in part to an influx of young people that are still at school.
Internet "users" by income

Source:Eurisko – July 1999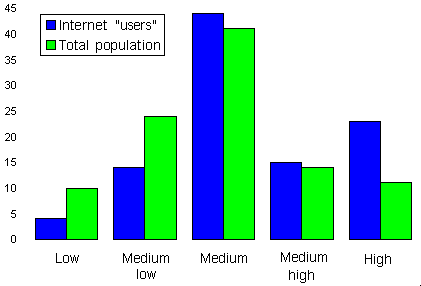 Here again, we see considerable improvement: more people online from not-so-high income levels. Data on "new users" show an even higher percentage of medium or medium-low income people.
Other sources of information and entertainment

Source:Eurisko – July 1999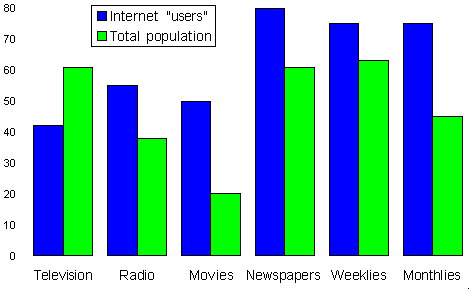 The criteria are: watches television for more than two hours daily;
listens to radio every day; has been to a movie house in the last 30 days;
read a newspaper in the last 7 days; a weekly or monthly magazine in the last 30 days. .
This doesn't indicate "replacement" of television with the internet; quite simply, the people on the net aren't in the same categories as the "heavy users" of television. People online use other information media more than the average. The difference, however, is declining: for instance readers of newspapers "every day" are 52 percent of people that were online in 1997 or earlier, 42 percent of those that came online in 1998-99.
Other cultural differences between people online and the general average are shown in the next graph.
Cultural activities

Source:Eurisko – July 1999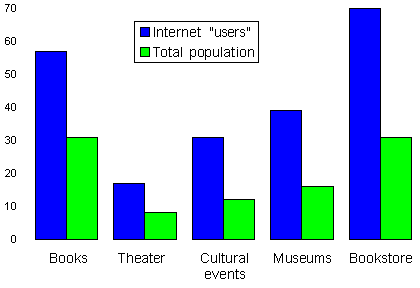 The criteria are: read a book or went to the theater or a cultural event in the last 30 days;
visited a museum or a bookstore in the last three months. .
Of course there is exaggeration in all "cultural" activities: people don't read, go to the theater, visit museums or bookstores – or use the internet – as often as they say when they are interviewed. But what is relevant here is the difference between internet "users" and the average. People online are much more active culturally than the rest of the population.
Knowledge of English

Source:Eurisko – July 1999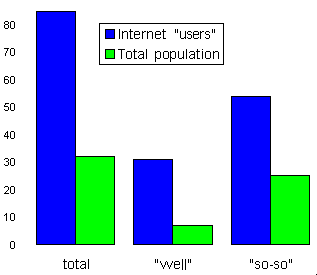 Once again, this picture is "optimistic"; unfortunately much less than a third of Italy's population understands English. But it's no surprise that people online know the international language much better than the rest.
% of women online

Source:Eurisko – July 1999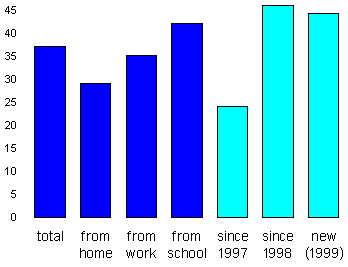 According to Eurisko, women are 37 percent of the people online. Other surveys report a lower percentage (Ipsos-Explorer 32 percent, Assinform 30) but all agree that it's increasing. Women are 44-46 percent of new "users". The ratio of women online in Italy is above the European average.
How long online

Source:Eurisko – up to April 1999
The dotted line for 1999 is a projection
based on new people online in the first four months.
Only five percent of today's "users" have five years' experience. 76 percent of the people online today weren't connected before 1997. Probably by the end of this year half of the people will be "new" – online for the first time in 1999.
The net in Italy (as well as in several other places) is young. By age, but especially by lack of experience. It will take a while before usage and behavior patterns take shape - especially in a constantly changing environment. The growth rate is high, but this is only the beginning of an evolution that will be largely unpredictable.